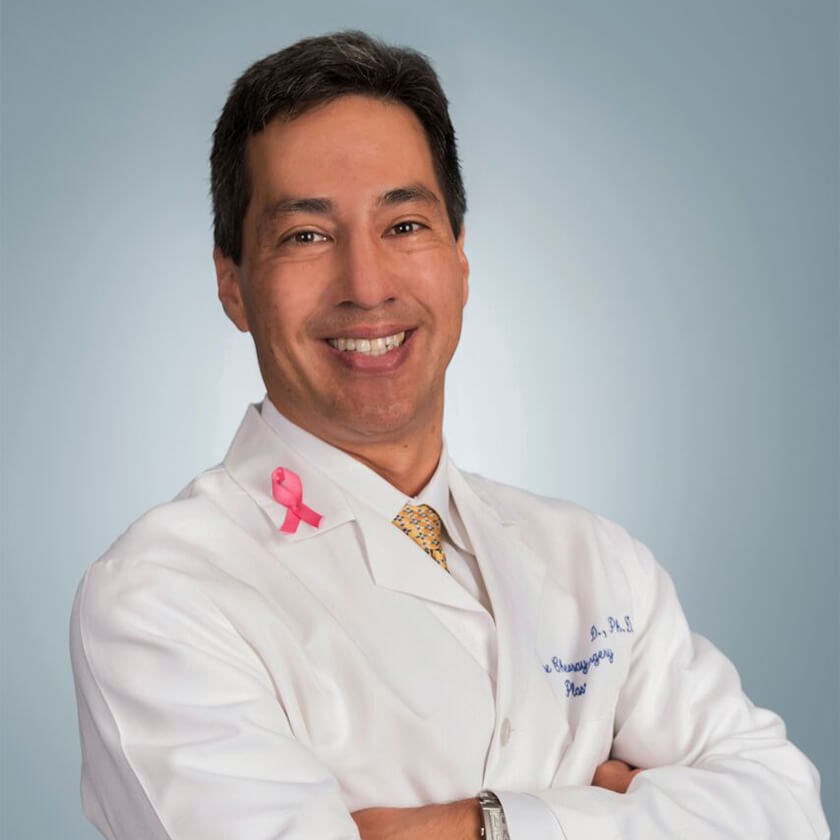 Dr. Pierre Chevray is a board-certified plastic and reconstructive surgeon of the breast and body, serving the Greater Houston, TX area for the past 20 years. Dr. Chevray is dedicated to patient safety, satisfaction, and education at his private practice, Chevray Plastic Surgery. He has a particular interest and expertise in breast reconstructive and cosmetic surgeries. Dr. Chevray also performs body contouring procedures for women with liposuction, tummy tucks, and more. He performs (immediate or delayed) DIEP, SIEA, TRAM, GAP, and PAP free flap breast reconstructions, breast resensation surgery, and the more traditional tissue expander and breast implant methods. With more than 2,000 breast reconstruction procedures to his credit, Dr. Chevray's experience in this field is unsurpassed.
Dr. Chevray is currently on staff at the Institute for Reconstructive Surgery in the Department of Surgery and Division of Plastic Surgery at Houston Methodist Hospital and Houston Methodist Sugar Land Hospital. He holds academic positions as an associate professor at the Weill Cornell Medical School in New York, NY and at the Methodist Institute of Academic Medicine in Houston, TX. He is also an adjunct associate professor of surgery at Baylor College of Medicine in Houston, TX and Texas A&M College of Medicine in Bryan, TX.
Dr. Chevray initially worked at the world-renowned University of Texas MD Anderson Cancer Center in Houston, TX for eight years where he rose to the rank of associate professor of plastic surgery and specialized in breast reconstruction as part of breast cancer treatment. He performed the most breast reconstruction procedures of any surgeon at MD Anderson during his time there. Dr. Chevray understands a woman's emotional involvement with any type of breast surgery, and what helps greatly is his wealth of experience, knowledge, and caring bedside manner that puts his patients at ease. His reputation as being gentle and approachable precedes him. The before-and-after galleries of this website reflect some of Dr. Chevray's intricate and technically demanding surgical work. He has made these galleries for future and current patients to see his results in excellent reconstructive and cosmetic procedures.
Dr. Chevray obtained his M.D. and Ph.D. in molecular biology and genetics from Johns Hopkins University School of Medicine in 1994. He completed a general surgery internship and residency, and a plastic surgery residency all at The Johns Hopkins Hospital in Baltimore, MD. He has been certified by the American Board of Plastic Surgery since 2001.
Professional Associations and Memberships
As a leader in the field of plastic and reconstructive surgery, Dr. Chevray is proud to be a member of the following associations and professional organizations:
American Society of Plastic Surgeons
American Society of Reconstructive Microsurgery
American Council of Academic Plastic Surgeons
American Board of Plastic Surgery
American Association of Plastic Surgeons
Dr. Chevray was honored or awarded with the following:
Who's Who in the World,
Marquis Who's Who, 2007 – Present
Who's Who in Medicine and Health Care,
Marquis Who's Who, 2007 – Present
Fellowship for Invitation of Foreign Scientists,
Japanese Foundation for Multidisciplinary Treatment of Cancer,
Shizuoka Cancer Center, 2007
Who's Who in America,
Marquis Who's Who, 2005 – Present
Who's Who in American Education,
Marquis Who's Who, 2005 – Present
Outstanding Nerve Presentation,
American Society for Reconstructive Microsurgery, 2004
Best Doctors in America,
(2003 – Present)
Baltimore Academy of Surgery Resident Research Award,
Baltimore Academy of Surgery, 2000
Johns Hopkins University Plastic Surgery Residents In-Service Examination Award,
Johns Hopkins University, 2000
Certificate of Merit at Young Investigator's Day,
Johns Hopkins University School of Medicine, 1995
Fellowship Support for Combined M.D. and Ph.D. Training,
National Institutes of Health Medical Scientist Training Program, 1987 – 1994
Reviews
"I saw Dr Chevray for breast reconstruction. I highly recommend him. Patrick and Carol are awesome. It was a very scary time for me and they made me feel special. I had a few bumps during recovery but he and his staff were always available to me. I can not express how thankful I am for this wonderful team."
W.B.
Facebook
"I saw Dr Chevray for breast reconstruction after mastectomy. He is kind, compassionate and very caring. His PA Patrick and nurse Carol are fantastic. They were always available for me at any time during my recovery. Words can not express how thankful I am for this team. I would highly recommend him if you ever need top notch care for reconstructive surgery."
W.B.
Healthgrades
"My diep flap reconstruction went smoothly. No 2nd touchup needed. I healed in 4 weeks and resumed my life. I am almost a year out since my reconstruction. I highly recommend this office & Dr Chevray. His team, Caroline & Patrick also helped me along this journey of recovery. I'm so happy with my results!"
J.C.
Google
"Dr. Chevray is an amazing doctor. I have been a patient of his (as well as two of my sisters and my niece) this past year after finding out I (we) carry the BRCA1 gene; so all the surgeries were preventive surgeries. From the first appointment with Dr. Chevray and his amazing staff they make you feel like family. Their kindness, caring and they way they comfort you will always have a special place in my heart. I am also hearing impaired so communication can be very difficult for me and not one time did Dr. Chevray nor his staff make me feel uncomfortable. They always went beyond the extra to make sure I understood my condition/ procedures at that time. Whether they had to draw pictures/diagrams, excessive repeating themselves over and over again, looking at me with direct contact so I could read their lips so I was able to communicate with them and understand what procedures that were being done at that time. I truly do not think I could have made it thru this difficult time in my life without Dr. Chevray and course Carol and Patrick. Thank you for being the doctor you are and thank you to you and your staff (even the receptionist) for being so understanding of my condition and making me feel like family."
K.
Google
"I found Dr Chevray to be very direct and professional in his approach. He was also companionate and willing to educate. Many women have the reconstructive experience only once, making the first impression the only impression. I would choose Dr Chevray again!"
D.I.
Google