TAKE CARE OF AGE LINES AND WRINKLES USING JUVEDERM INJECTIONS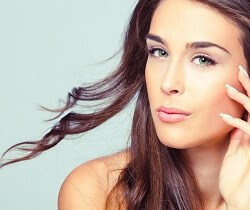 Juvederm is a type of facial filler. Fillers are chemical substances that remove wrinkles and make the skin look youthful. Facial fillers are injected into the skin and offer long-lasting solutions for smooth wrinkle-free skin. Use of facial fillers is popular, as the procedures are non-surgical yet can still provide excellent results.
WHAT IS JUVEDERM?
Approved for use by the FDA in 2006, Juvederm is a synthetic gel form of hyaluronic acid, a version of a substance that naturally occurs in the body. This substance adds volume to the tissues by attracting water molecules.
Juvederm injections can effectively fill in age lines and wrinkles for a more youthful look. Juvederm is suitable for both women and men. It can be used to fill moderate and deeper lines, including the nasolabial folds, marionette lines, parentheses lines, and smoker's lines.
WHAT TO EXPECT DURING THE TREATMENT PROCEDURE
The procedure to inject Juvederm into the skin is simple. Depending on the requirements of the patient, the procedure can take up anywhere from 15 minutes to an hour. Juvederm injections also contain lidocaine, a local anesthetic that helps to numb pain you would otherwise feel during the procedure.
To start your procedure, your doctor will mark the treatment areas on your face. He will then inject these regions with Juvederm. You may experience temporary minor pain, discomfort, or redness in the treatment area after treatment.
BENEFITS OF JUVEDERM INJECTIONS
Use of Juvederm injections offers many benefits:
• It is a simple procedure requiring very little recovery time. You can get back to your normal routine immediately. The only precautions are to stay away from sun exposure, makeup application, alcohol consumption, and strenuous activity for a day or so. Your doctor will guide you regarding safety precautions for before and after the procedure.
• The results from Juvederm injections are visible almost immediately. The results also last longer than other types of dermal fillers, sometimes up to a year or longer. After this, patients can typically come in for repeat treatments. Touch-ups are also available.
• Juvederm injections provide natural-looking results instead of an appearance that looks dramatic or worked on. After the procedure, the skin appears firmer and smoother in a natural way.
• Due to the use of hyaluronic acid (which is found in the muscles and skin tissues), people with sensitive skin or those who are prone to skin allergies can also use Juvederm without any problem. For those who are allergic to chemicals, Juvederm injections are a perfect solution to get rid of sagging skin and wrinkles.
GET STARTED WITH YOUR JUVEDERM INJECTIONS
Juvederm injections require safe handling, so always go to a licensed practitioner for your procedure. If you're ready to get your Juvederm treatment and reduce the appearance of age lines, it's time to visit the office of experienced board-certified plastic surgeon Dr. Pierre Chevray. Dr. Chevray will be happy to help you reach your aesthetic goals. Contact us to schedule an appointment for your informative and helpful consultation.