ARM FLAB CAN BE SO FRUSTRATING!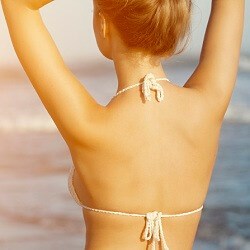 Arm flab is excess skin and fat on your upper arms. The skin of the upper arms begins to sag over time as a result of dramatic weight gain or loss, old age (the skin loses its elasticity as you age), and hereditary factors.
HOW TO GET RID OF ARM FLAB
Arm flab can be a frustrating thing. It can cause you to feel insecure about your body and lose confidence. This in turn can affect your lifestyle choices. Even simple things like going swimming or wearing sleeveless tops may be something you feel uncomfortable doing because of your arm flab.
Good news: There's a way you can address frustrating arm flab for good. An arm lift, also known as brachioplasty surgery, is a plastic-surgery procedure used to achieve toned, smooth, and well-defined upper arms.
BENEFITS OF AN ARM LIFT
An arm-lift surgery has many benefits. Once the procedure has been completed, you will notice the previous lifestyle restrictions you faced vanish almost instantly. Some benefits of the arm lift include:
• A Better Fit for Clothing – The arm lift allows you to wear clothes that fit better. This is a significant change for many who undergo the procedure.
• Stronger and Healthier – After getting rid of all the excess skin and fat dragging your arms down, you will feel stronger and healthier. Working out will show more-visible results as well.
WHAT TO EXPECT
A brachioplasty procedure begins with the administration of anesthesia to ensure that the patient's experience is comfortable and pain-free. Once it has taken effect, an incision is carefully made on the bottom or inner side of the upper arm.
This incision allows Dr. Chevray to remove excess fat and skin as needed to reach the patient's aesthetic goals. Once the arms have been recontoured, the incisions can be closed with the help of surgical sutures. The incisions are then dressed to help avoid infection.
POST-OPERATIVE CARE
The arm lift comes with a few post-operative care directions that should be followed for a healthy recovery, including:
• Maintaining a healthy diet and a regular exercise routine
• Avoiding smoking two weeks before surgery and until the healing process is complete
• Avoiding vigorous exercise until the incisions have fully healed
• Changing dressings on the area of the arm lift periodically as determined by Dr. Chevray
• Taking painkillers and antibiotics as prescribed
POST-OPERATIVE SIDE EFFECTS
Some previously reported side effects of the arm lift include:
• Clotting of the blood
• Swelling
• Fluid buildup
• Numbness
These are common side effects reported in the past, and they can typically be reversed with the help of rest and a healthy diet.
CONTACT OUR OFFICE TO FIND OUT MORE
Well-respected board-certified plastic surgeon Dr. Pierre Chevray has years of experience with arm lifts and a number of other cosmetic procedures. To speak with Dr. Chevray regarding brachioplasty surgery, it's best to contact our office and schedule a consultation. During your consultation, you will be able to have all of your questions answered.