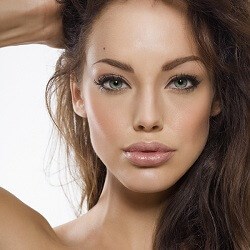 Are your eyebrows starting to sag? This might be a result of the effects of aging. Forehead skin can begin to lose its shape over the years and affect the shape of the eyebrows. Sagging brows can make you look haggard and worried. To counter this problem, you can opt for a brow lift.
THE BENEFITS OF A BROW LIFT
A brow lift (also known as a forehead lift) can improve the positioning of the eyebrows by raising them to a more optimal level. Proper eyebrow positioning is essential for a youthful and attractive look. Raised eyebrows won't hood or cover your upper eyelids. You will look alert and have a rejuvenated appearance. Elevated eyebrows can instantly refresh your face.
A brow lift also takes care of lines and creases on the forehead. You can eliminate vertical frown lines and horizontal creases for a more youthful look. A smooth forehead means a more beautiful face that looks fresh instead of constantly upset or confused.
BROW LIFT – THE PROCEDURE
A brow lift can be done using local anesthesia with sedation or using general anesthesia. The traditional brow-lift method is the coronal, or classic, technique. It requires one incision from one ear to another across the hairline, where it remains hidden. Through this incision, Dr. Chevray works on removing the excess skin and tightening the remaining sagging skin.
The traditional technique is ideal for people with large foreheads. Dr. Chevray won't need to change the hairline's position to perform the surgery. He is able to see all problem areas directly and work on them as needed. The traditional brow lift approach allows room for lifting brows in case the change required is quite extensive. At the end of the procedure, Dr. Chevray will close the incision with sutures or adhesives.
THE RECOVERY PERIOD AND YOUR RESULTS
You may experience slight swelling or bruising in the forehead after surgery. The swelling subsides as the healing progresses. Pain medication can be prescribed if necessary. You can expect your full recovery to take around 10 to 14 days. You will need to avoid strenuous activities such as exercise and sports during this time.
The results of a brow lift can be truly remarkable. The initial results will be noticeable immediately, but since there is swelling, but won't be able to see the full extent of the improvements until the swelling subsides.
After full healing, the forehead will appear smoother and the brows will be positioned higher. The results can be long-lasting, and you can extend them by maintaining a healthy lifestyle. This means sticking to a proper diet, using effective sun protection, and refraining from smoking.
CONTACT US FOR A CONSULTATION
If you are worried about sagging brows, consult with Dr. Pierre Chevray, a well-respected board-certified plastic surgeon, to learn more about the brow lift. Dr. Chevray will be available to discuss the procedure in greater detail and can walk you through the surgical process and more. Contact our office to schedule your informative and helpful consultation.